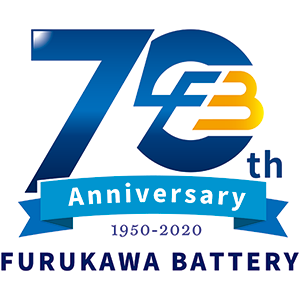 On September 1, 2020, Furukawa Battery celebrated its 70th anniversary.
It is our valued stakeholders who have made this possible through their continued support over the years,
and I would like to express my gratitude to all of you.
With this important milestone as our first step,
we will continue to take on new challenges and achieve continuous growth
so that we can become a company that must last 100 years.

The Furukawa Battery was established in 1950 independently of the battery plant of Furukawa Electric Co., Ltd.
Since our founding, we have contributed to the development of society by providing high-quality storage batteries, power supply systems and related services in a wide range of fields, from automobiles, buildings, public facilities, railways, aerospace, and so on. In recent years, we have been promoting businesses that contribute to resolving social and environmental issues, such as batteries for environmentally friendly vehicles and storage batteries for renewable energy applications. We are developing products and services tailored to the times and needs of the times.
Over the past 70 years, we have experienced many twists and turns, but thanks to the support of many people, including customers, business partners, employees, and local communities, we have continued to grow in line with our philosophy of "contributing to society through our businesses and technologies, and developing sustainably together with society."
The environment and society surrounding us have changed dramatically over the past decade or so. It is not an era in which we can survive simply by valuing tradition and history. With pleasure and appreciation that marks the 70th anniversary, I hope to respond flexibly to changes and continue to exist for the next 10 years and 100 years. To this end, we will maximize our technological, development and challenge capabilities, contribute to society through our businesses and technologies, and grow sustainably together with our stakeholders.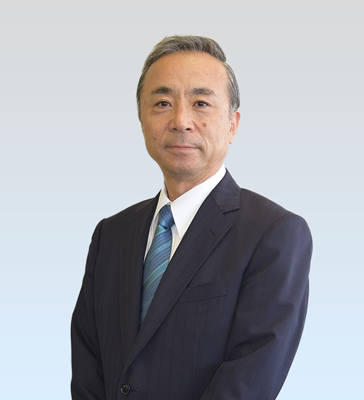 Shinichi Ono
President and CEO
The Furukawa Battery Co., Ltd
Our history
1900

1914
Furukawa Electric Co., Ltd. established battery factory in Amagasaki City, Hyogo Prefecture
1937
Relocated its battery factory to Yokohama City
1950

1950
Spun off from Furukawa Electric Co., Ltd. Founded as The Furukawa Battery Co., Ltd.
1952
Obtain permission to display the Japan Industrial Standards mark for automotive storage batteries
1955
Commercialized storage batteries for aircraft
1970

1970
Constructed automotive lead-acid battery plant in Imaichi City (now Nikko City)
1978
Constructed automotive lead-acid battery plant in Iwaki City
1992
Merged with Thailand-based Siam Cement to establish Siam Furukawa Co., Ltd. (SFC)
2000

2003
Successfully developed the world's first lithium-ion battery for use in space, which was installed in the Hayabusa asteroid exploration craft

Akihiro Ikeshita
2006
Developed UltraBattery, representing a significantly improved performance in lead-acid battery
2010

2013
Merged with Indonesia's Indomobil Group and established PT. Furukawa Indomobil Battery Manufacturing (FIBM)
2013
Augmented equipment at automotive lead-acid battery plant in Iwaki
2014
Developed MgBOX magnesium-air battery for emergency use
2014
Lithium-ion batteries equipped in the Hayabusa 2 asteroid probe
2016
Acquired 10.5% of issued shares of Vietnam-based storage battery manufacturer Dry Cell and Storage Battery Joint Stock Company
2017
Established next-generation lithium-ion battery development company (ABRI Co., Ltd.)
2017
Gaston Planté Medal awarded to an employee
2019
Hayabusa 2 probe equipped with lithium-ion batteries manufactured by Furukawa Battery successfully touches down on the Ryugu asteroid

Akihiro Ikeshita
2020

2020 
Developed bipolar storage batteries that satisfy all performance, safety, and economic efficiency
Distribution of Anniversary Presents to Employees
The Furukawa Battery distributed emergency magnesium-air batteries "MgBOX slim" to employees as commemorative 70th anniversary gifts. The aim is to encourage employees to live safely and with peace of mind and to raise their awareness of disaster prevention and mitigation.