It's that time of year again, the time of Sirocco.
The hot wind is blustering along the highway.
The gale brings cloud mounting over the sky.
The cloud unleashes lightning displaying the Infinite power of nature over the earth.
Somewhere along the line, we've called Sirocco The Thundermaker.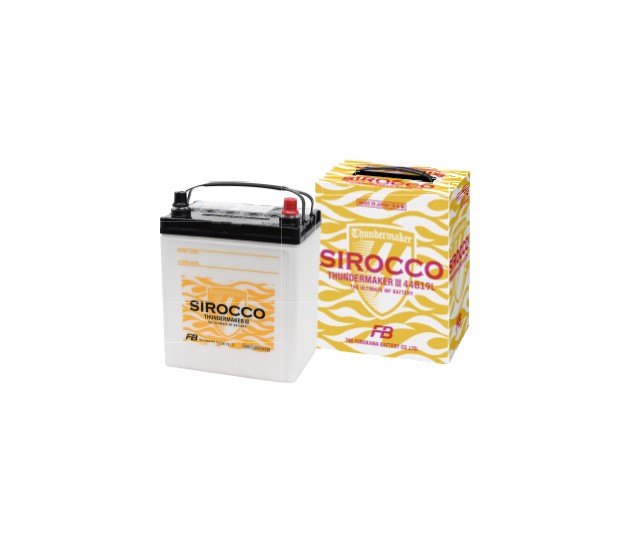 Feature
1. Upper Grade Series
THUNDERMAKER-III SIROCCO is the up-graded series of the forerunner, THUNDERMAKER-II UNIVERSAL, having higher capacity and stronger engine starting performance. For this new series, THUNDERMAKER-III SIROCCO our Inner Lug High Density Super Strong Grid of the latest design, made of C-21 Special Alloy, Straight Connection Inter-Cell Welding and Low Impedance PE-Envelop Separator are employed. The ideal combination of these most advanced technologies has made it possible to achieve inhibition of internal impedance at extremely low level and extended service life to the maximum level for the same class of batteries. THUNDERMAKER-III SIROCCO, our ultimate MF Battery, always assures you one-strike starting and ever-comfy driving by its overwhelming power anywhere, anytime.
2. Long Life and Environment-Friendly
THUNDERMAKER-III SIROCCO has a semi-transparent milky white container and cover, while all the other Sealed Type MF Batteries in the world are in black containers and black covers. You can always observe the electrolyte level from outside and, if the electrolyte level drops lower than the Lower Level Line, you can add water to THUNDERMAKER-III SIROCCO after pealing off the sticker label on the top cover and opening the sealing caps under the label. By adding water, the plates can be relieved from the risks of corrosion caused by dry-up of electrolyte and gain extended service life for certain period. It means you can use up the maximum life of THUNDERMAKER-III SIROCCO to the end, and finally you can be an environment-friendly driver helping minimizing wastage of still-usable batteries. Thus, THUNDERMAKER-III SIROCCO is so safe, so economical and so ecological. Those are unique and the extraordinary advantages of THUNDERMAKER-III SIROCCO that all the other Sealed Type MF Batteries in the world in black containers and black covers are never capable of.
3. Convenience of Wet-Charge and Leak-Proof Double Structure Cover
THUNDERMAKER-III SIROCCO is a factory-fresh battery which is electrolyte-filled, fully charged and good to use at once. THUNDERMAKER-III SIROCCO has a unique double structure top cover which accepts water adding however, firmly prevents leakage of electrolyte to the outside. Even if overturned sideways, THUNDERMAKER-III SIROCCO does not develop any leakage of electrolyte for 5 hours or more actually.
4. For All Japanese Passenger Cars
As one of the most reliable and prestigious battery manufacturers in Japan, we, THE FURUKAWA BATTERY CO., LTD., are supplying our products to most of major Japanese car manufacturers as Original Equipment (OE). Our THUNDERMAKER-III SIROCCO is manufactured in the same production lines that our OE batteries are manufactured, and shipped to the market under the strict quality control and punishing inspection in the same manner that we are carrying out on our OE batteries. You will see the most advanced technology and traditional craftsmanship of Japanese automotive battery and our company creed, to contribute both to customers and environment, are crystallized in this ultimate MF Battery, THUNDERMAKER-III SIROCCO.