Get your engine fired up with a power box of the thunderbolt. It always satisfies you with one-strike starting and ever-comfy driving, anywhere, any time. This Premium-MF Battery series in full range is genuinely manufactured in Japan to suit to all Japanese passenger cars, now available in factory-filled and wet-charged condition.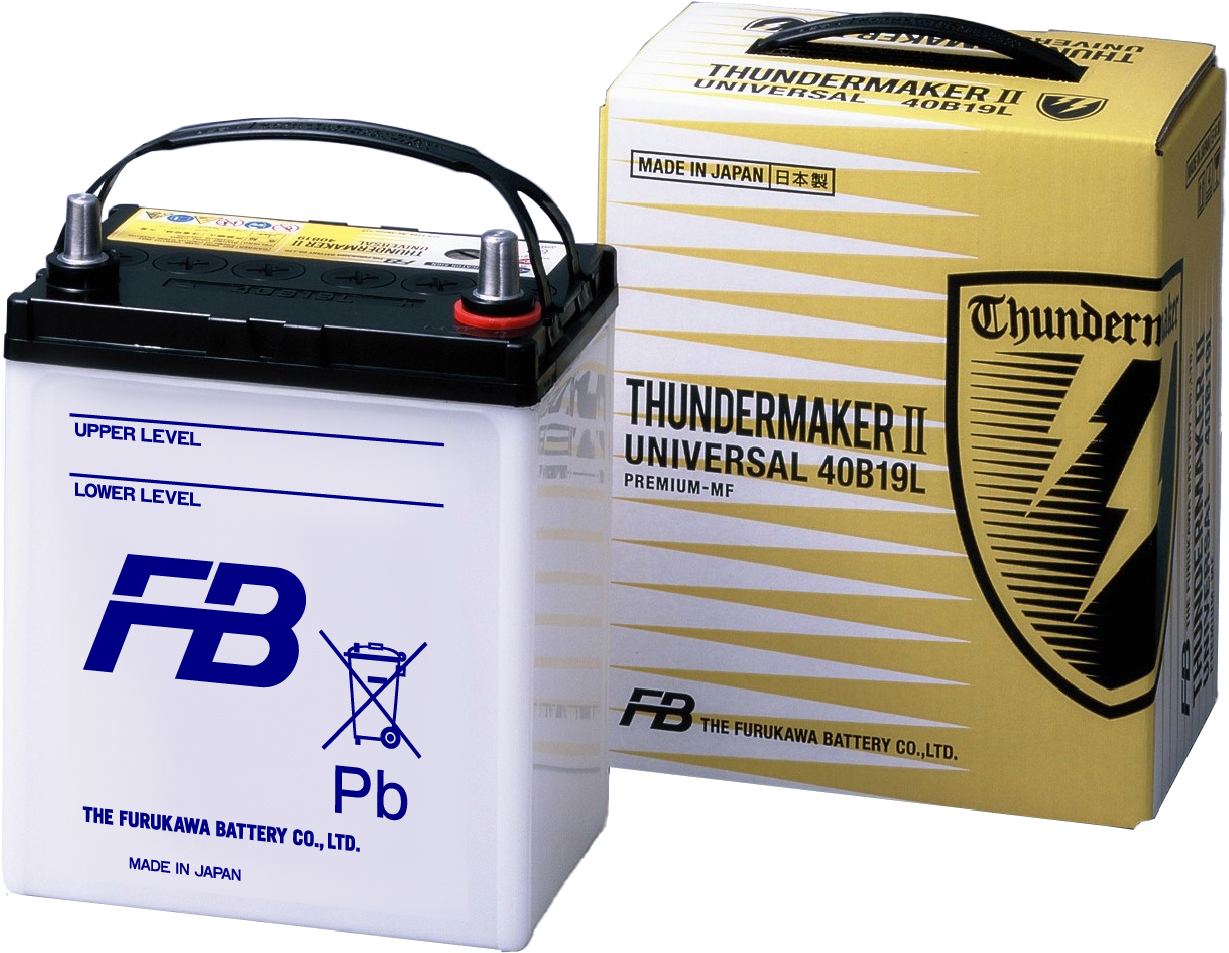 Feature
1. High Engine Starting Performance
Engine starting performance simply depends on how the battery provide with high voltage and large current. High voltage accelerates the starter motor speed higher and also gives stronger sparks of spark plugs when ignition. In short, how to lower the impedance of the battery is the key factor to enjoy better engine starting performance.For THUNDERMAKER-2 Universal, Inner Lug Super Strong Grid of latest design , Inter-Cell Straight Connection and PE-Envelop Separator are adopted to make impedance of the battery extraordinarily low. THUNDERMAKER-2 Universal always provides you with satisfaction of smooth and powerful engine starting in hot and cold climate.
2. Long Life
The grid of a traditional but the most reliable way of grid-making, Book-Mold Casting, is used for the positive plate while high-speed Continuous Casting Grid is employed for negative plate to prevent growth (swelling) of plates and to keep strong contact of active materials to the mesh of the grid. This optimum combination of grids ensures stable quality level and longer service life of THUNDERMAKER-2 Universal both in desert land and blizzard field.
3. Convenience of Wet-Charge
This THUNDERMAKER-2 Universal Wet-Charged MF Battery is launched as the successor to the current THUNDERMAKER Dry-Charged MF Series. THUNDERMAKER-2 Universal is the new series of factory-fresh battery with electrolyte-filled, fully charged and good to use at once.
4. For all Japanese New Passenger Cars
As one of the most reliable and prestigious battery manufacturer in Japan, we, THE FURUKAWA BATTERY CO.,LTD. are supplying our batteries to all of Japanese new car manufacturers as Original Equipment (OE). Our THUNDERMAKER-2 Universal is manufactured in the same production lines that our OE batteries are manufactured and shipped to the market under the same strict quality control and same punishing inspection that we are carrying out on our OE batteries. The one and only difference THUNDERMAKER-2 Universal has is outer cosmetic design. Our THUNDERMAKER-2 Universal always guarantees you a smooth engine starting and comfortable driving as if you are on a brand-new car.