August 10, 2017
Furukawa Battery Co., Ltd. (Headquarters: Yokohama City, Kanagawa Prefecture; President and Representative Director: Shinichi Ono) has decided to provide its support to the Asia Cross Country Rally, the biggest rally in Asia.
The 2017 rally, the 22nd, will hold its ceremonial start in Ayutthaya, in the kingdom of Thailand, on August 13 (Sun.). The full-scale rally will then begin from the following day, August 14 (Mon.).
This year's course includes the province of Kanchanaburi for the first time in 9 years. It is a loop course starting from Kanchanaburi and heading north through a mountainous area along the national border between Thailand and Myanmar. The first half of the rally will be staged in a region which consists mainly of jungles.
The ceremonial finish will be held on August 19 (Sat.) in Ayutthaya, the location of a prominent World Heritage Site in the kingdom of Thailand. Many of the race vehicles will be equipped with Furukawa's batteries, and it is greatly anticipated for their high potential to be exhibited even when installed in rally vehicles.
Race overview
Name of race
22nd FEDERAL-VESSEL Asia Cross Country Rally 2017
Official recognition
Fédération Internationale de l'Automobile (FIA),
Fédération Internationale de Motocyclisme (FIM),
Royal Automobile Association of Thailand (RAAT),
Federation of Motorcycle Sports Thailand (FMSCT),
Cambodia Motor Sports Federation (CMSF)
Organizers
Ortev Thailand, R1 Japan
Schedule
August 13 - 19, 2017
Course
Loop course starting from Ayutthaya, Thailand and heading north through a mountainous area along the national border between Thailand and Myanmar.

Total distance to the goal in Ayutthaya: about 2,000 km
Details of support
Event sponsorship
As a sponsor of the event, we will support the overall management of the rally.
Bike team composition
Our team will be composed primarily of the FB Bike Team participating from Iwaki City, Fukushima Prefecture, an area of our company's manufacturing bases, and will aim to once again achieve overall victory, carrying on from last year's rally.
Battery provision
We will support participating teams by providing them with our company's highly reliable batteries.
Our executives will also travel to the rally site and participate in the opening ceremony.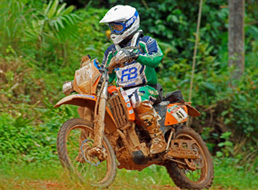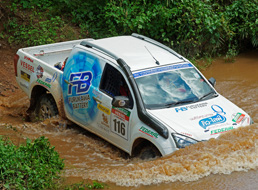 2017 Asia Cross Country Rally Course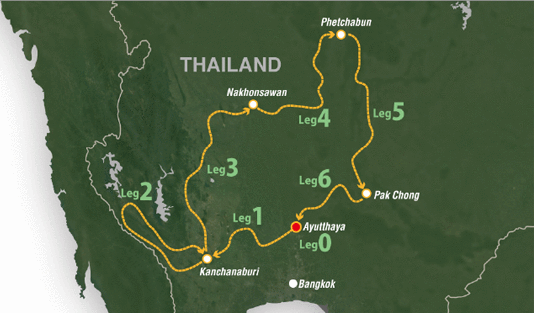 Race schedule